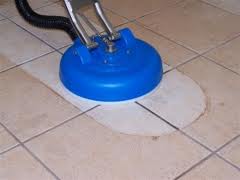 Tile and Grout Cleaning
Just like carpets, ceramic tile flooring and countertops need professional attention in order to optimize the look and life of your ceramic tile. When it comes to maintaining your ceramic tile, rely on our certified expert technicians to keep your ceramic tile clean and sparkling.
Tile and Grout Cleaning Process
Ever notice how the grout in between your tiles seems to get darker over time? That's because it's slowly absorbing dirt and grime causing discoloration. Nuclean Steam Clean offers the best in tile and grout cleaning using cutting edge technologies that eliminate dirt and discoloration. Using a state-of-the-art steam cleaning process and a special grout brush, our technicians expertly remove hard-to-clean grime and dirt.
Seal and Protect Your Grout
After your ceramic tile, countertops, and flooring is thoroughly cleaned by Nuclean Steam Clean technicians, protect your investment by having your grout sealed. This grout and tile sealing process can extend the life of your ceramic tile and maintain its luster longer than a normal cleaning treatment.